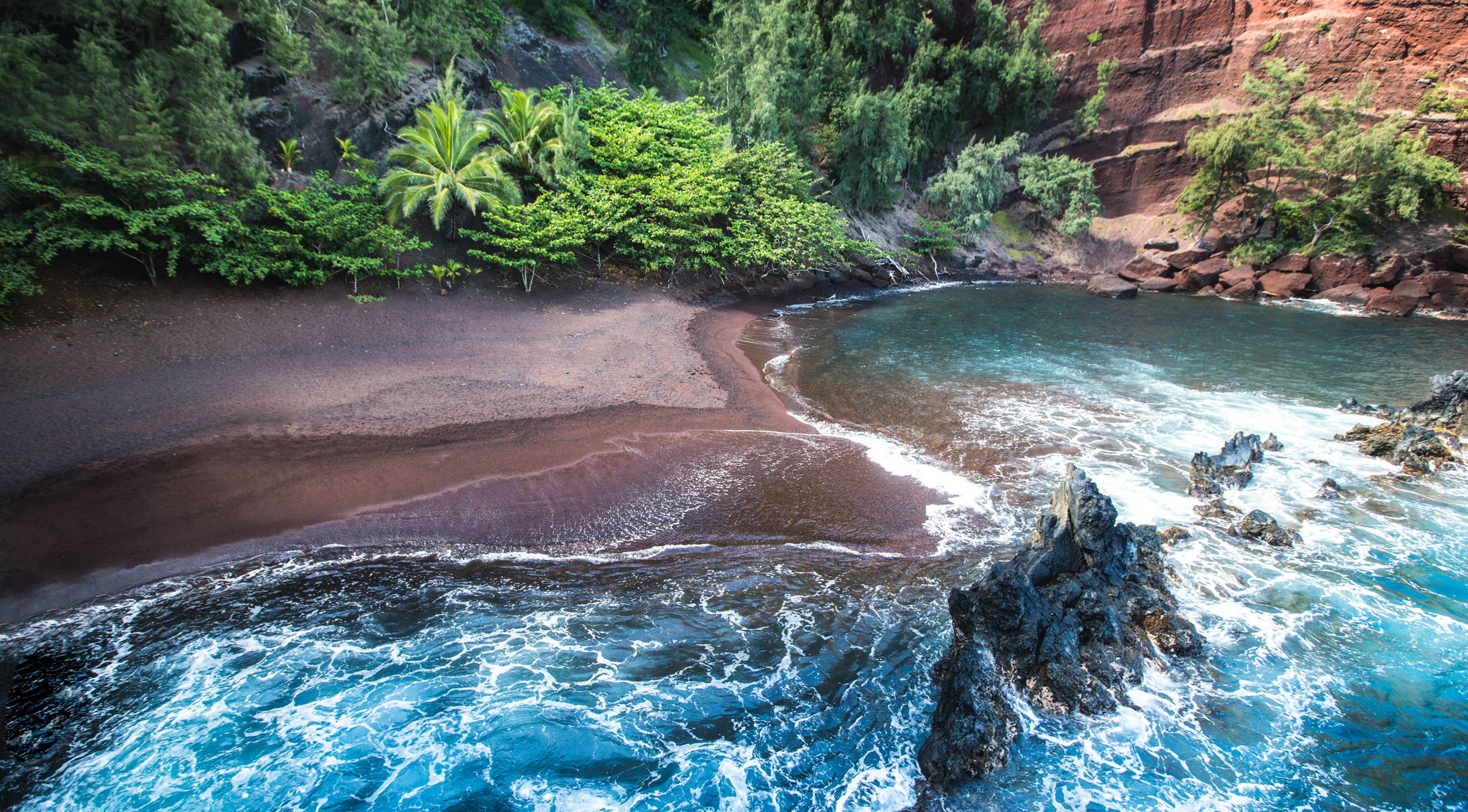 Sitting on the beach next to the small little surfer town Paia on Maui while writing this blog post and watching the children and surfer how they enjoy the ocean is satisfying. So even if our last blog post already feels like ages ago, Philipp and I probably just felt too much in love with the Hawaiian "enjoying-the-moment-lifestyle" and to be honest, also were quite busy with our newest collaboration since our arrival on the island. So please forgive us (again) to not always be "online" and up2date – we are just enjoying Hawaii in the meanwhile 🙂
As Hawaii was always at the top of our bucket list and we already wanted to go there for such a loooong time, you probably can imagine how  excited we were when we first arrived at the airport in Honolulu. Although Philipp and I thought that everyone would be welcomed with Hawaiian music and some "Hula Girls" (which wasn't the case 😅), we still weren't disappointed and immediately got addicted to the Hawaiian charme within its very first moments.
Hawaii is just amazing – I know we say that about every country, but it's true. The nature, the beaches, the food, the weather, the nice looking surfer boys ("and girls" – Philipp), the culture, the relaxing lifestyle – it is really like seen on TV or in magazines.
The only thing we are really struggling with is that Hawaii is super expensive and most of the Hostels (even if they are quite pricey compared to other countries) don't have air conditions – which is especially for Philipp a nightmare 😊
But beside that we really had a great time so far and honestly would love to stay here a little bit longer. Hawaii and all its island (8 main and 137 if you add the smaller ones) has just way more to offer than you could fit within three weeks. The most interesting thing is for sure the Hawaiian culture and how proud the people are about it. They really try to protect it in any manner and make you feel it if you won't respect their old traditions. But looking back and thinking about the history of Hawaii, it is not a big surprise that people feel and act like this. Therefore it's also quite hard to understand why Hawaii is even part of the United States. While similar, it still feels so different as it should be its own country.
As already mentioned we also started a new collaboration with an old friend here on Hawaii and therefore the first 10 days were quite busy to produce new photo and video footage for them. Unfortunately, the whole collaboration and its outcome is still a little bit of a secret so we can't tell you any further details yet – sorry 😊 But just that you know, we had a lot of fun during our collaboration and can't wait to show you the result.
Next to our collaboration we also had the chance to explore the islands of O'ahu and Maui a little bit. Both island are super nice and each has some unique places and spots where you could definitely stay a little bit longer. O'ahu with the capital Honolulu and the world famous Waikiki Beach is of course crowded and there are many tourists but it has still a cool atmosphere and you really get into the Hawaiian mood. Beside that O'ahu has many famous surfing spots and breathtaking hiking opportunities.
Maui is a little bit more chilled than O'ahu and is also famous for it's amazing beaches and snorkeling spots. You can imagine we really had a hard life on Maui just lying on the beach and thinking about what we should do next: surfing or snorkelling 😅
Beside our time on the beach we also explored the volcano in the National Park Haleakala on Maui and we would definitely recommend everybody to walk once in a lifetime on a volcano – it's quite cool 😊
Another highlight on Maui was for sure also the road to Hana. This small road trip is pretty well known on the island and we totally understand why. Waterfalls everywhere next to the street, a bamboo forest, a black and red sand beach, many super delicious food trucks along the way and many more things. In total it is a scenic drive with over 600 curves and over 50 one-lane bridges.
As you see we were quite busy in the last couple of days and I guess because of that we also can't believe that we already have to leave on Friday this week again. Time is like always running way tooo fast. So on one hand we don't want to leave, but on the other hand we are also super excited for California, because we will see two friends for the first time since 8 months again (ahhhhhh 😊) and it is also one of Philipp's absolute favourite places (he has been there already two times).
Anyway we are still happy to have some more days on Hawaii and we will try our best to keep you more up to date with some photos from our last week on the island – hopefully 😊
Sunny and super chilled greetings from Maui,
Melanie & Philipp!